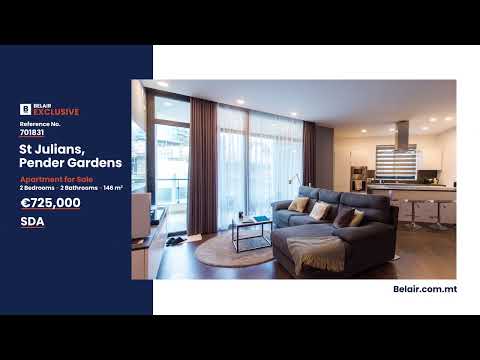 Apartment For Sale
St Julians, Pender Gardens
Reference No. 701831
€ 690,000
Property Description
Pender Gardens new block 2 Bedroom Apartment with spacious terrace, use of communal pool and walking distance to the supermarket. Layout comprises of a very spacious open plan kitchen, living, dining room, 2 double bedrooms, master with en suite, front terrace and balcony. Great as a buy to let investment. PROPERTY IS ALSO TO-LET.
Energy Performance Certificate - Energy use: 79 kWh/m2yr, Carbon Dioxide Emissions: 20 kg/m2yr.
Details
Swimming Pool Type
Communal
Unique Selling Point (USP4)
Spacious terrace
External Area
18.00 sq mt
Internal Area
123.00 sq mt
Property Area
141.00 sq mt
Unique Selling Point (USP3)
Square layout
Unique Selling Point (USP2)
Fully furnished and renovated
Unique Selling Point (USP1)
SDA
Disclaimer
The information contained in this website is for general information purposes only. While we endeavour to keep the information up to date and correct, we make no representations or warranties of any kind, about the accuracy, reliability or availability with respect to the website or the information, products, or services contained on the website for any purpose.