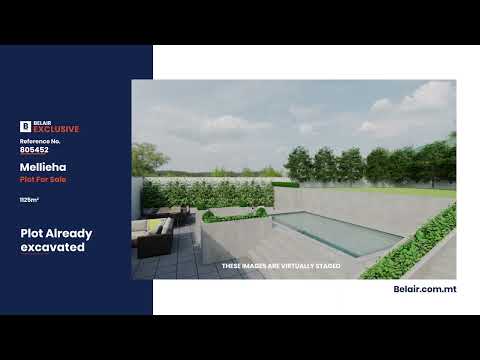 Within Development Zone (DZ) For Sale
Mellieha
Reference No. 805452
€ 1,090,000
Property Description
For Sale Exclusively with Belair, Santa Maria Estate in Mellieha offers a great opportunity for those looking to build their dream villa. The plot of land measures just over 1120 sq meters and comes with an approved permit for a fully detached villa with distant sea views. The works carried out on the plot include excavation and the construction of a number of piles to solidify the foundation. This provides a solid base for the construction of the villa. The approved villa design offers spacious living with a total of 500 sq meters of internal space and 750 sq meters of external space. The villa features four bedrooms and five bathrooms, along with a large kitchen with pantry, living and dining area measuring 90 sq meters. Other highlights of the villa include a cinema room and bar, a library, a laundry room, a courtyard, and a study overlooking the back garden. Outdoor amenities include an infinity pool with a built-in fire pit measuring 65 sq meters, a large outdoor kitchen, a four-car garage, and a porch. The villa also offers plenty of outdoor space and terraces for relaxation and enjoyment. The approved application for this villa can be amended to suit the buyer's preferences. The price is available upon request, and considering the attractive features and unique setting in Santa Maria, this villa is a must-see for those seeking a luxurious and spacious living space.
Disclaimer: Images of the property seen here are actual, however some include digitally staged furniture & accessories
Details
Unique Selling Point (USP1)
Exclusive Santa Marija Plot with distant Sea views
Unique Selling Point (USP2)
Permit for detached Villa in hand
Unique Selling Point (USP3)
Plot Already excavated
Unique Selling Point (USP4)
Piles Already constructed for Platform
Disclaimer
The information contained in this website is for general information purposes only. While we endeavour to keep the information up to date and correct, we make no representations or warranties of any kind, about the accuracy, reliability or availability with respect to the website or the information, products, or services contained on the website for any purpose.